An Unforgettable Elopement: Paige and Jacob's Beach Bliss in St. Pete, Florida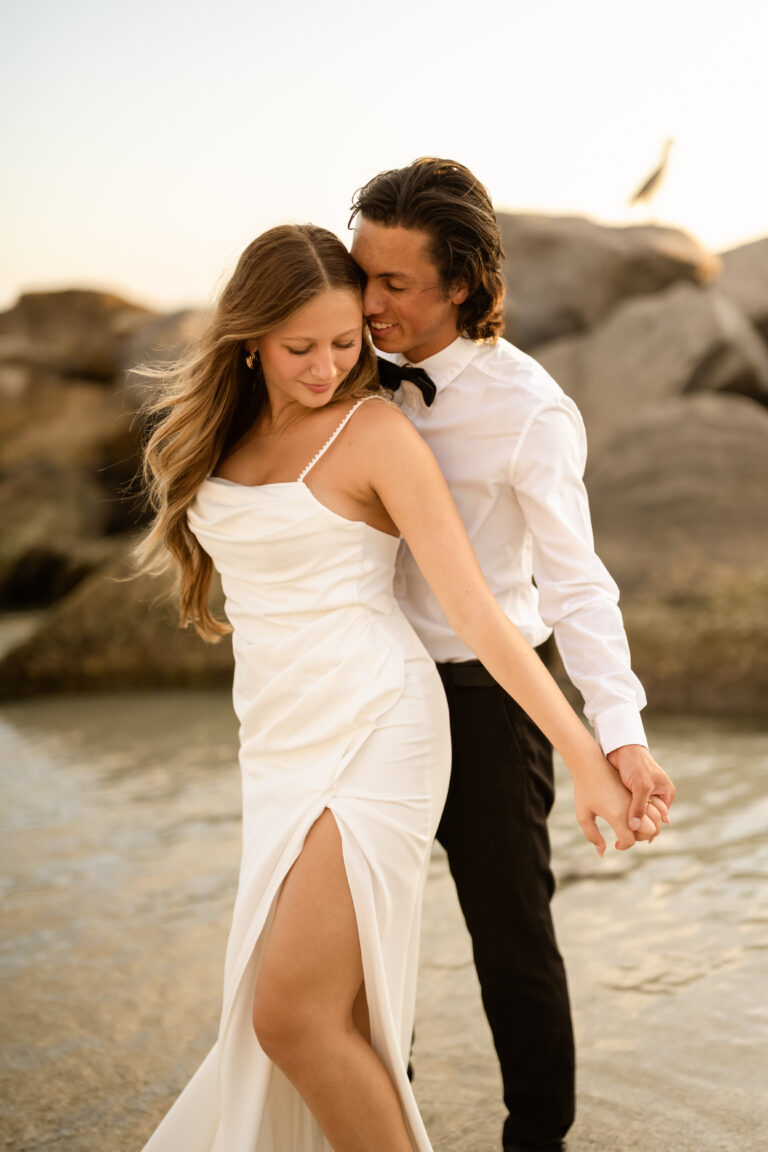 Paige and Jacob's Breathtaking St. Pete Elopement
Love knows no boundaries, and for Paige and Jacob, their journey of love led them to a breathtaking beachfront elopement in St. Pete, Florida. With the soft sand beneath their toes and the ocean as their witness, they embarked on an intimate adventure that perfectly captured their adventurous spirits and deep connection. Join us as we dive into the story of their unforgettable elopement, where the sun, sand, and surf played witness to their love.
A Romantic St. Pete Setting: Pristine Beaches and Sunsets
St. Pete, known for its pristine beaches and breathtaking sunsets, provided the perfect backdrop for Paige and Jacob's elopement. The couple, enamored by the idyllic setting, chose a secluded spot on the soft, powdery sand, where gentle waves kissed the shore in rhythmic harmony. The romantic ambiance of St. Pete's Beach instantly made their dream of an intimate elopement a reality.
Exchanging Vows on the Surfboard: A Love Story on the Waves
As the gentle sea breeze rustled through their hair, Paige and Jacob exchanged heartfelt vows on their surfboard near the rocks where the birds played witness. Their love reverberated in the air, blending with the sounds of crashing waves and seagulls gliding above. The moment was pure magic as they sealed their commitment with a passionate kiss, surrounded by the enchanting allure of the ocean.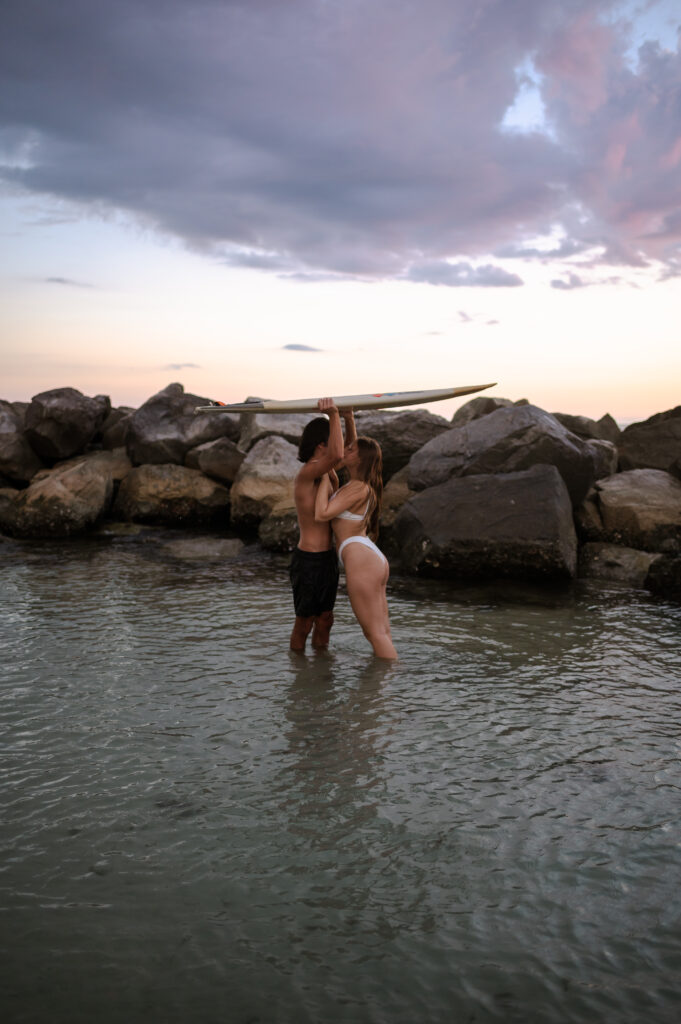 Capturing Memories: A Love Story Preserved in Time
I documented every cherished moment from the sand in their toes, to Paige's floral crown and the ocean that will preserve their love story. The stunning snapshots showcased the raw emotion and profound connection between Paige and Jacob, reflecting the essence of their love against the picturesque beach setting.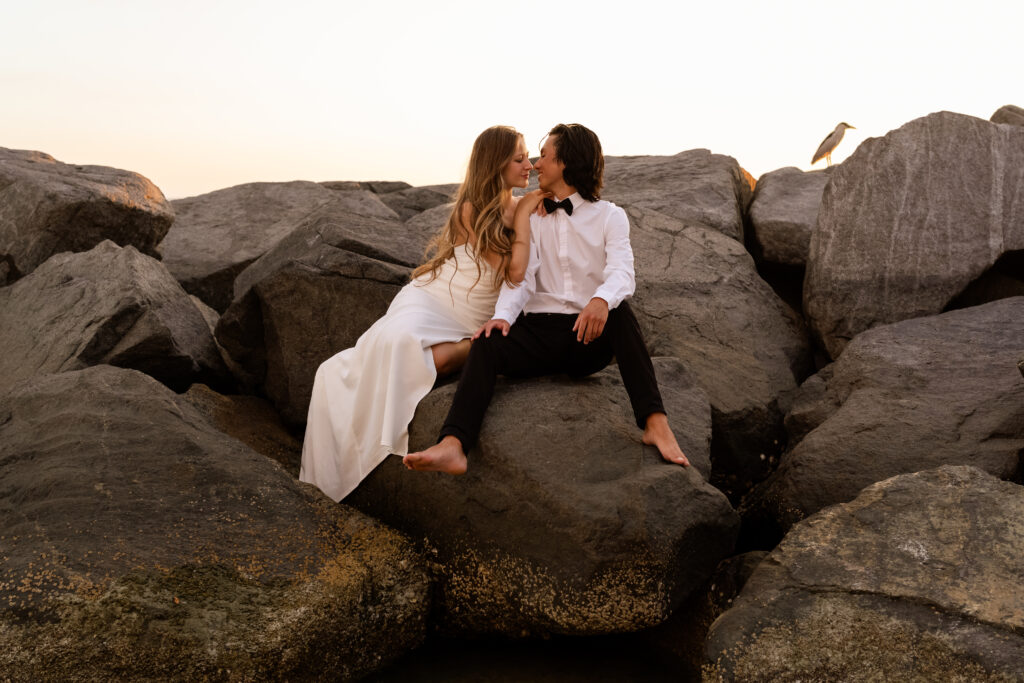 Surfing the Waves of Love: A Touch of Adventure
To add an extra touch of adventure to their special day, Paige and Jacob included a thrilling surf session in their elopement plans. The ocean, a place where they found solace and shared countless memories, became their playground once more. After their heartfelt ceremony on the board, they changed to swimsuits and grabbed their surfboard for some fun in the water together. With every wave conquered, their love and joy radiated brightly, painting a picture of pure bliss on the sun-kissed waves.
A Sunset Celebration of Love: Forever Bound in Beauty
Following their surf session, Paige and Jacob embraced the evening glow as they celebrated playfully in the water. The golden hues of the sunset perfectly complemented their joyous spirits!
Paige and Jacob's elopement in St. Pete, Florida, will forever hold a special place in their hearts. It was a celebration of love, nature, and their shared passion for surfing. The beach witnessed their vows, the sun witnessed their radiant happiness, and the ocean witnessed their shared dreams coming true. As they continue their journey together, Paige and Jacob will forever be reminded of their magical elopement, a testament to the unbreakable bond they share.